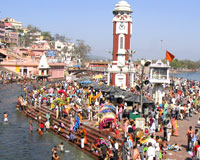 The land where the holy River Ganges descends into the planes, Haridwar is the holiest of Hindu cities. Haridwar, literally meaning the gateway of the Lord, is visited by devout Hindus at least once in a lifetime to get rid of ones sins and purify the body and soul by bathing in the sacred waters of the Ganges. Located on the foothills of Shivaliks, Haridwar is thronged by pilgrims and tourists from across the globe alike. This mystical town of Haridwar opens the windows of the rich Hindu civilization to a person coming from the west. Haridawr has been called by many names in ancient holy texts such as Mokshdwar, Gangadwar, Mayapuri and Kapilsthan.
Haridwar is a holy town which happens to be sanctified by being one of the major Shakteepeethas since times immemorial. Haridwar has also been a major center of Hindu learning, philosophy and culture and arts. Haridwar is one of the oldest cities of India which have continued maintaining the Gurukul tradition of learning. Haridwar is the gateway of the revered char dhams situated in Uttarakhand- Kedarnath, Badrinath, Gangotri and Yamnotri.
This revered city is one of the four places where the much celebrated Ardh Kumbha Mela takes place in every six years and the Kumbha Mela in every 12 years. Being enveloped by the Himalayas the holy city of Haridawr looks magnificent. Nature's bounty can truly be witnessed by a traveler here.
The spiritual experience one gets in Haridwar is unparalleled. The daily Ganga arti at Har-ki-pauri, with thousands of pilgrims singing praises of the sacred river with lit up lamps, is something which will leave you completely mesmerized. The spiritual extravaganza is accompanied by a healthy way of living which includes several Yoga and Ayurvedic centers in the city. Haridwar undoubtedly provides one with a kaleidoscope of Indian civilization and culture.