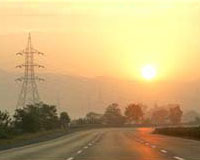 Location:
Uttarakhand / Uttaranchal
Altitude:
250 m
Summer Temperature:
41°C max and 16°C min
Winter Temperature:
18°C max and 4°C min
Average Rainfall:
2315.4 mm
Best Time to Visit:
October to April
The city of Haridwar is situated in the planes of Uttarakhand state and is located in the foot of Shivalik ranges. It is in Haridwar that the Ganga leaves the mountains and starts it journey in the planes. The climate of Haridwar is considerably affected by its proximity to the Himalayan ranges especially the dipping mercury in winter months is a result of this. The city of Haridwar enjoys extreme climate. The summer months are extremely hot with the mercury rising to a high of 41°C and the winters are absolutely cold with the mercury dipping to a low of around 4°C.
Summer
Summer in Haridwar generally lasts from April to June or mid July. The summer month witnesses scorching heat and the temperature rise to a high of 41°C during the day. However nights in summer are pleasant with the temperature recording a low of 16°C. The pilgrims and tourist however ideally beat the heat by taking a dip in the holy water of Ganges.
Winter
The winters in Haridwar are quite cold and chilly mercury may dip to as low as 4°C. The winter season lasts from the month of October to February and the water of the Ganges is extremely cold and chilly. The winter months also result in mist which adds to the scenic beauty of Haridwar.
Monsoon
The monsoon downpour in Haridwar brings some relief to the local population from the summer heat. The monsoon season in Haridwar lasts from July to September and brings freshness to the city. However, during the monsoons the River also takes a dangerous turn with the current in Ganga really increasing. It is advisable not to take a dip in the holy Ganges during this time as the banks become flexible and extremely slippery.