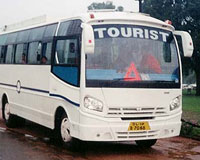 Located at the foot of Himalayan Shivalik ranges, Haridwar is situated in the state of Uttarakhand. Haridwar is close to several major North Indian cities and is about 214 km from the capital city of New Delhi. This revered city of Hindus is visited by millions every year to experience the spirituality and the divinity associated with the place. Find about various ways how you can reach this holy city from different parts of the country and beyond.
By Air
Haridwar does not have an airport of its own. The nearest airport to Haridwar is located in Dehradun called the Jolly Grant airport* which is about 35 km away from the city. From Dehradun you can either board a train or hit the road to reach Haridwar. Also one can take a flight to the International Airport at Delhi and from here one can take a train or road journey to the holy city. Jolly Grant airport is presently undergoing renovation and therefore closed for flights
By Rail
The Indian Railways has a railway station at Haridwar which is connected by trains from major cities of India. Reaching Haridwar by train is one of the most convenient and economical means. Trains from Ujjain, Delhi, Varanasi, Bombay, Allahabad, Amritsar, Lucknow and Dehradun all ply regularly to Haridwar. Some of the important trains running to Haridwar are Bombay-Dehradun, Doon Express, Gorakhpur - Dehradun Express, Ujjaini Express, Varanasi-Dehradun Express, Dehradun-Allahabad Link Express, Mussoorie Express (Delhi-Dehradun), Shatabdi Express (Delhi- Dehradun).
By Road
Many inter-state deluxe, semi-deluxe and ordinary buses ply to Haridwar everyday. If you wish to come in a large group you can even book a private bus for coming to Haridwar. For a smaller group private cabs or even your own vehicle can be used to reach Haridwar. In the course of the journey you will find several restaurants, hotels, motels and even garages for servicing of the vehicle.